ChimSpect simplifies chimney inspections and report writing!
The App works with iOS, Android and now works with ChromeBooks!
· Fast and easy inspection reports
· Accurate reports Reduce your liability risks!
· Use our disclaimer or customize your own
· Fast Easy to use, comprehensive, adaptable
· Consistent results: All of your techs can write complete reports regardless of their experience level.
· Using the app helps train your techs to be familiar with codes and standards
· Using the app standardizes the way all of your crews complete chimney inspections
· Use the online dashboard to view and edit your reports.
· You decide the level of information you want to record
· Meets / exceeds NFPA-211 standards
· Add all the pictures you need
· Our "Comment Assist library" can be customized to your company's needs to build fast reports in plain language with the code standards referenced
· Reports saved to secure cloud servers
· Add private notes about the customer or property that will not show up in your written report
· App based service works on or off line
· Create PDF files for easy printing, emailing, storing and texting
Professional reports = more $$$
Do you want your company to be more profitable? The ChimSpect app and software will build professional narrative style reports. The companies that consistently use narrative style professional reports generate larger and more profitable jobs! Customers will be impressed with your attention to detail as they watch you diligently take measurements. We constantly hear "The last company wasn't nearly this thorough!" Insurance adjusters will have more respect for your reports and estimates
Standardize inspections for all crews
Using ChimSpect will standardize the way all of your crews complete inspections. You can also view their reports on the dashboard to remotely monitor your crews work!
Reduce your liability!
Use of our app will make sure you and all your crews are gathering all the information required to prove they are providing the "standard level of care" required by our trade! Your narrative style report documented with measurements and photos will be proof of the condition of the chimney, vent or fireplace conditions when you serviced the system.
Property Tracking
House addresses don't change, but home owners do. Our dashboard allows you to search your inspection reports by address. Look it up! See the report from the last time you serviced the home.
"Presentation mode"
Close more sales as you impress your customers with our on-device PowerPoint style presentation mode to present your findings and conclusions! Our staff and our customers love this feature! Present your findings and have your customer sign the report on your device!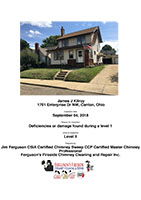 Download a sample report